Welcome to the Marple Local History Society website
Hollins Mill
Our Next Meeting: Monday November 20th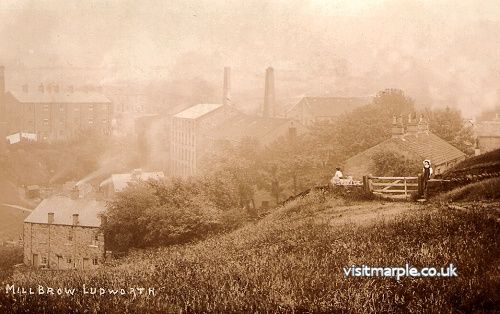 'Marple & Mellor - A Textile Tale' - Judith Wilshaw
Left, an amazing postcard of Mill Brow with a faded ghostly image showing how it got its name.
MLHS Archives Online Launch
After much hard work, mainly by Committee Member Louise Thistleton, we are pleased to announce that our digital archive is now open! To access the Archive, please click here.
Read, A Ground-breaking Society
Planning Application Submitted for Housing Development at Marple Wharf
A planning application reference DC/067001 has been submitted to Stockport MBC. Marple Civic Trust's response may be viewed here. A new petition has been started and can be reached here.
Book now !! For the Greater Manchester Archaeology Day, Saturday 25th November at Salford University.
Archaeology Day is a day of guest speakers highlighting just some of the significant archaeological projects and excavations over the past year. There will be book stalls, society stands and displays, view locally excavated artefacts, the Historic Environment Record database for Greater Manchester to investigate and refreshments at each break. This day is designed for practitioners, professionals, and especially members of the public.