Page 1 of 2
Mr. Pixton lived all his life at High Lane, and for the most part he was employed on the Lyme estate. He then kept the Grocer's shop in Windlehurst Road, High Lane. He was born in 1894 and died in 1973 aged 79.
Male voice: I suppose I should begin with early memories. My forebears on father's side came from Runcorn, Cheshire. They had a fleet of canal barges, Bridgewater Canal,(below) and settled on the Farm, Withington Hill. Mention of Buttercup and Owlclough Meadows is in the Deeds belonging to this property belonging to
my great great grandfather. I own a property, by the way, lies in Marple Church yard opposite the old church door. The villagers in this area either went to worship Marple or Disley. Now the first incident I vividly remember is showing my finery. When we were children we boys all wore petticoats and were not breeched until we were five. I suppose this particular Sunday I was ready, all dressed up. I slipped out through the back gate across the Buxton Road to show a crowd of young men my new knickers or drawers as they were called. I collected and pointed out the fine edgings, lace, I supposed and what laughter I caused.The next thing I remember was workmen with a trench through the kitchen and scullery. They were putting town's water into our house for the first time. Father and family had to carry drinking water from a well near to the Stockport/Buxton north western railway ...... gap .......... and many times they would play about until the factory whistle blew for workers to cease work. Then they filled their buckets with canal water and made for home, late, not reaching the drinking water well.

Well, I suppose I must mention the first day at school. I was taken by Sarah Cadman who lived opposite, now Mrs Mills. I rather liked it. After school we played outside on the now A6, underneath street lamps' paraffin, at marbles, jack and dobbers and many other games which children played until we went to bed after some good homemade broth or porridge. One of the games we were fond of was tormenting householders. You had a very long piece of cotton which you held across the road, behind a wall. Fastened to the far end was another piece of cotton about 6 inches long and at the bottom was a button tied about 6 inches from the window which we pinned it to. You pulled the thread to and from the window, kept gently pulling the cotton and gave over when the housekeeper opened the door. Immediately they got settled inside you began again. They came out again and again but there it was no one about and you repeated the knocking until they found the thread and chased you. That trick was played on cottages right opposite the school at High Lane.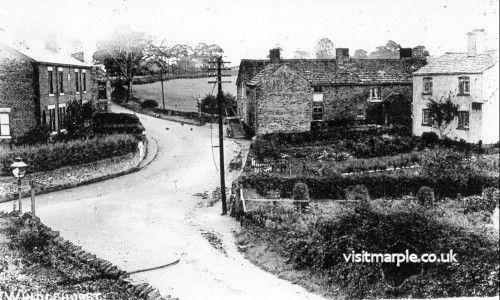 One of my early memories, Ralph & George Arden, farmers at Windlehurst Hall Farm, taking buttermilk and produce to the bakeries and cafes in Manchester. The horses' hooves did make a clatter on the setts about 3 am every morning and we were so warm in bed. The next event of importance to me was the start of the new Midland Railway tunnel, Hazel Grove to Chinley , the Midland Railway. We were intrigued watching the steam navvies digging great scoopfuls of earth and making the cutting into the tunnel entrance. I would think just before 1900 it was a grand playground for us. The goods yard was just over the top of the tunnel and we used to run on the metals, or lines as they were called, trucks, pushing them uphill and then running down having lovely rides until the night watchman ran us off. Workmen's huts were spread about the little village. Some of the occupiers were very, very, nice families. About this time I would think three or four hundred children attended High Lane School and many, Sunday School and Church although they had their own (mission) rooms, one on the top of Wybersley.

Every public house had some attraction in those days, peggy matches, wrestling, boxing, rabbit coursing, pigeon shoots, sparrow shoots, starling shoots of which I did not approve. The village life was gay. You made your own fun plus some social tea parties, conversaziones, boys brigade, night classes, woodwork classes, reading room, gym classes and the reading room, 5 shillings per member, billiards, rifle range etc.

Here I ought to mention mother, one of the best. She came to these parts from Suckley, a village on the Worcestershire/Herefordshire border, farmer's daughter, one of the best of cooks. Dad was a grand scholar but did not have a chance to push ahead, having a family of three boys and one girl, but we went nothing short because he was such a worker. I might retract here. My great great-grandfather was a stone mason and worked on Lyme Estate. I understand he was one of the hardiest and great workers, would not give up work. One frosty morning, when all the other fellows had gone into the cabin, he would not give up - result, fingers and toes frostbitten. I got this information from men, all turned 80 years in 1908, who knew him as a young man.

At one time the nearest shop where we bought flour and tea was Brothers shop, Doodfield, or the corner shop at Disley. We collected the same in a white pillowslip, 14 lbs a turn. The same shop was also known for good cheese and home cured bacon. Later, when the tunnel was being made, we had three butchers' shops and four small shops. Then the CWS opened, our largest shop building was opposite the lane and small rows of houses were built by local tradesmen. The Roundhouse was taken down, corner of Jacksons Edge Road and Disley Road, which was quite a picture, and replaced by two semis . A Mr Elmsmore was tenant, dad told me. On one of his customary walks, 40 miles one Sunday, Goyt Valley, Burbage, Buxton, Millers Dale, Tideswell, Sparrowpit, home via Chapel-en-le-Frith, called to get refreshments at the Hanging Gate public house, unluckily. He had to push on home and when he reached his gate, the Roundhouse, he remarked, "Never mind the Hanging Gate pub, this Hang's free!" And in he went. Dad, after tea, made the usual call for him to go to Church and he was asleep on the sofa and would not get up.

I ought to say, much of the land in High Lane and Norbury belonged to the Lyme Estate which stretched to Bramhall, Torkington, North Strines, New Mills, Whaley Bridge, Kettleshulme, Brinks Farm. The triangle there was the boundary, three estates, Lord Derby's, Lord Newton's and Shrigley Estate, Miss Lomas. Back again to High Lane, our small holding was owned by Lord Newton. We had to pay rent at Hazel Grove, Red Lion Inn, where a sumptuous dinner was laid twice a year and whatever drink you wished to have all laid on, £6.00 yearly, all repairs thrown in, paint, wallpaper included. We could keep four cows and young things before they took some of the fields from us to build or make the canal warehouse. Flour was brought by the canal and collected from the warehouse.
My first work at 12, one week's employment relieving the boy who was on holiday, Windlehurst Hall, Samuels, the Jewellers, Manchester, 7 am clean the stable, brush and curry comb the pony. Next fill all the coal scuttles, then shown 20 or 30 pairs of boots to clean, breakfast, change into coachman's rigout, blocker (Block hat) and leggings. Then sat behind, arms folded, to High Lane or Disley Station to bring back the pony and gig. If the lady was going later, left the pony harnessed and repeat, garden till dinner, clean cutlery etc and probably take some of the family to afternoon tea. This included tea for me in the coach house, odd jobs, fed pony, after a brush up, home 7 pm. The wage, which seemed a good one in those days, one florin, two shilling, 7 days. The next work, half time Windlehurst factory, which was a doubling factory, 6 am to 12.30 six mornings half hour breakfast, two and six pence, 36 hours. Afternoons were 1.30 to 5.30, two shillings. The first week I was thruppence in debt. Playing about with the lads whilst brewing tea I, or at least they, broke three jugs, 9 pence each, which I had to make good a week's work to lose thruppence.
Now I was very interested but I still craved for outside job. I went to be coachman at Lomber Hey (Mr Berry, Solicitor, lived there), 7 am to 6 pm, seven days, eight shillings a fortnight, to be signed for, much of a repeat like the first work at Windlehurst Hall. I stayed for months and then found I could earn 6 shillings a week, back again at Windlehurst factory owned by Pearsons, doublers. Back I went until it blew down February 22nd 1908. Several men, who were whitewashing, crashed through all four floors and were not seriously hurt apart from a few fractured limbs. It looked very pitiful to see our machines hanging down from the fourth floor with the yarn 90's Egyptian, fine cotton cps.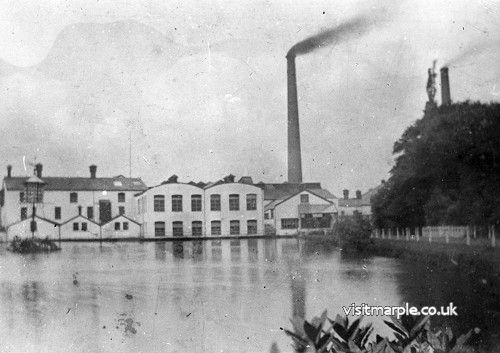 Well, a week later, I know it was Shrove Tuesday, I went to Strines, being out of work, Printworks (left), to find a job. The manager told me to start back-tenting on a printing machine. I told him I had not come prepared, no food, and mother would not know where I was. He replied, "Well you can have the job if you start and on no account can you have it tomorrow." He arranged for me to go to Mrs Richardson's, near the old block printing shop, for breakfast and dinner. As I said earlier, lovely meals. Also I had to toss a pancake, why I remember Shrove Tuesday. Now that was a long day, 6.00 pm, worried about mother, no phone to ring like today, 8 shillings weekly. I liked the work, very interesting. We dipped samples of work in the log wood, then a mixture of cow dung and water to fasten the colours provided by Mr Hatherton, the farmer on Disley Road.

A pal called to tell me he could get me a job on Lyme Estate, 9 shillings a week. Well, I fancied being outside, animals, birds, etc , by the way, red deer, antelope, fallow deer, Japanese deer, Indian cattle which I was delighted to see. Well, it was very interesting to me. I liked all of it on Lyme Estate really, especially any of the beating and rabbiting. The idea was probably thirty of us, we turned out, some with ferrets. They put them up the rabbits' hole and we had to coke them. Coke means a muzzle so that they would not stop in the holes. Well, we went ahead, after driving some of the rabbits out, men came along then with bags of hay, put a light to the hay and wafted it up with beaters up holes until you could see it coming out somewhere else. Then men came round with what we used to call "Shiftem," some kind of a chemical. They put some drops on paper, pushed it up the hole, then followed men with spades, making the holes up lightly. Well, you
kept going the whole day through in that fashion. The following day the spades men went over the same ground making the rabbit holes up again, caught up with us and that was the carry-on for that day. Probably it was at least a fortnight ferreting rabbits. We were not able to do it longer because the rabbits would begin going back into the holes after that time. Being scared they were out all the time. Now gamekeepers, or anyone who wished to earn a further two shillings, stayed up watching these rabbits , to keep away the poachers , who, more or less, came from Stockport and their hideout was underneath Middlewood Station waiting for the train to draw in. Then they threw the nets and rabbits into the carriage of the goods van and simply soft- soaped the guard with a couple of rabbits or pheasants if they had been lucky enough. Well, that was the end of the rabbits so far as ferreting and digging them out.