Ridge Quarry Music Festival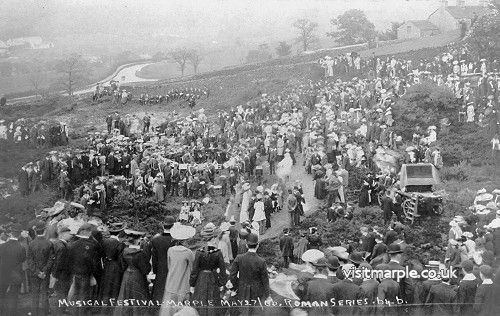 Huge crowds enjoy a Music Festival in the Ridge Quarry, on Saturday May 27th,1909 (?), the year, diificult to read here, appears on a similar photo. From the Marple Local History Society Archives.

On the website: Latest Publication: Samuel Oldknow - A New Perspective by Hilary Atkinson. Latest addition: Mr. Brabury's Memories, part of new section of the website, 'As I Remember'. These memories were recorded, organised and presided over by Mrs Gladys Swindells, then Chairman of Marple Antiquarian Society (now the Marple Local History Society). The original interviews took place after 1961, by which time the interviewees were over 80 years of age, their memories returning back to the late 19th. century.
Somme One Hundred Volunteers Sought:
Somme 100 Manchester are looking for an army of volunteers to help with The National Commemoration of the Centenary of the Battle of the Somme.
The event is taking place over two days at Heaton Park starting with a memorial service at Manchester Cathedral on 1 July followed by a procession through the city to the park culminating in a spectacular concert performed by an exciting mix of professionals and community volunteer groups. Alongside this, Heaton Park is hosting a two day 'Experience Field' where school groups and the public can wander through a re-created army training camp and hear stories, music and discover artefacts exploring life in 1916. More details on this pdf..Somme One Hundred Heaton Park
Summer History Walks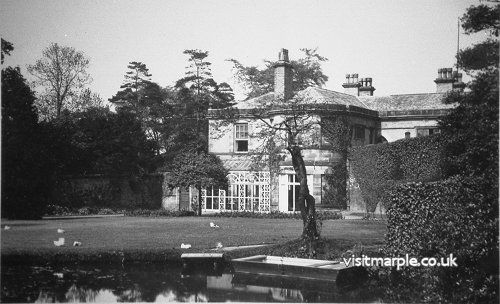 At the recent AGM, members were offered a questionnaire, to fill in, to give their views on the Society's activities. One request that arose from this exercise was for a series of summer local history walks. In response, three walks have been organised for summer 2016. The first took place on 16th May, led by Judith Wilshaw, the second on Monday 20th June Neil Mullineux.
And on Monday 18th July, your final chance this summer, Judith Wilshaw will be exploring the Brabyns Estate and Marple Bridge. What was Brabyns Hall left aka a car park !
Lancashire Mills to Close? This summer may be your last opportunity to visit Helmshore & Queen Street Mills. These historic Lancashire textile sites are threatened with closure in September 2016. Details on this pdf
About the Society
The Society was formed in 1961, following almost a decade of interest in local history matters. Originally The Marple Antiquarian Society, it became The Marple Local History Society in 1990. As a society, we research the history of Marple, endeavouring to unfold it's story, along with that of the surrounding area, including Marple Bridge, Mellor, Compstall, Strines, Hawk Green and High Lane. Monthly meetings are held between September and April, several field trips are made each year. The society publishes a range of publications, has an active archive session on Thursday mornings, and organises occasional exhibitions. More details here. The Society is a Registered Charity, 500099.