Seventeen Windows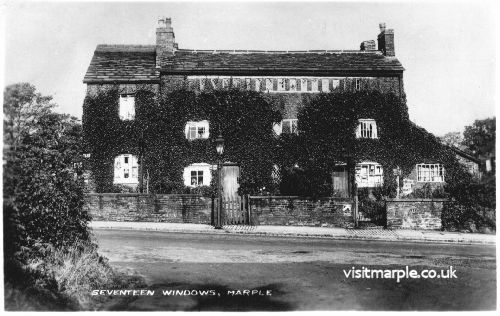 A great photograph that explains why it was called Seventeen Windows. Marple Local History Society Archives.
Next Meeting

Monday 10th April 2017: Kevin Dranfield - The Goyt Valley Miner

The April meeting will have three parts. First the AGM section of reports and votes. The middle section will be a presentation by Kevin Dranfield on the 'Goyt Valley Miner'. The evening, and season at the Methodist Church, will draw to an end with tea and cake in the foyer. Meeting Details
This Week
Marple Lime Kilns. Monday 27th March to Friday 28th there is a week-long community dig at the front of the Lime Kilns. For more information click here
On Thursday and Saturday of the week Mark Womersley will be demonstrating how to build a lime kiln. Pop along to watch and experience the sights and smells of lime burning return to Marple! For more information click here
Lime Kilns Open Day on Saturday 1st April. More Details
Online Sources
Recently as part of ROL (Revealing Oldknow's Legacy Project), two lectures were given by Rachel Reader of Salford University on the some of the methods used in Desk Based Assessment in Archaeology. During the course of these lectures Rachel handed out a list on Online Sources. Rachel has kindly given permission for the list to be published. This is here on the website and click to reach a pdf of the list.
About the Society
The Society was formed in 1961, following almost a decade of interest in local history matters. Originally The Marple Antiquarian Society, it became The Marple Local History Society in 1990. As a society, we research the history of Marple, endeavouring to unfold it's story, along with that of the surrounding area, including Marple Bridge, Mellor, Compstall, Strines, Hawk Green and High Lane. Monthly meetings are held between September and April, several field trips are made each year. The society publishes a range of publications, has an active archive session on Thursday mornings, and organises occasional exhibitions. More details here. The Society is a Registered Charity, 500099.
Featured Article
There was no problem with finding Wentworth Woodhouse. With 365 rooms, it is the biggest house in Europe. Quite a contrast to the miners' cottages that we passed on the way there. However it might not have 365 rooms as our friendly guides wouldn't confirm that. How do you classify a corridor with eight fireplaces or a cupboard bigger than a bathroom? We hoped to understand this problem once we got inside the house but where was the front door? It began as a Jacobean house with a gateway by Inigo Jones and that is still the core of the house as nothing is ever knocked down. The first Marquess wanted something rather grander so he grafted a very large baroque house onto it - the west front.
Read more: June 2015: Wentworth Woodhouse and Wortley Top Forge