Goddard Family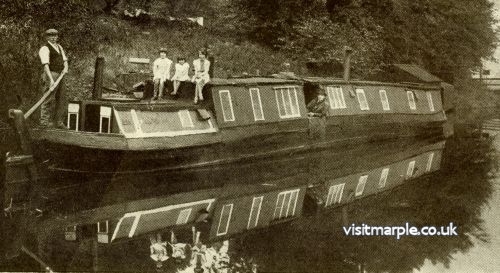 James Goddard and family lived on the barge "Mary" on Waterside for 20 years or more.
from Marple Local History Society Archives.

On the website: Latest Publication: Samuel Oldknow - A New Perspective by Hilary Atkinson. Latest additions: Neil Mullineux's review of the last talk of the season, Brentwood with Michael Lambert: Report on the trip to Manchester Central Library & Ordsall Hall : Ruth Hargreaves & Bill Beard's 'from the archive' article: 'A Mellor Photograph' St. Martin's Church, 'Marple's Hidden Gem', Neil Mullineux's report on Judith Wilshaw's – Compstall and Cooperation, talk to the January meeting.
Summer History Walks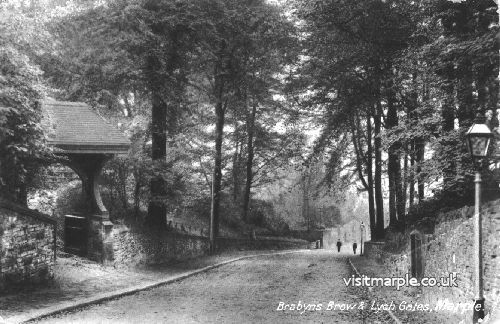 At the recent AGM, members were offered a questionnaire, to fill in, to give their views on the Society's activities. One request that arose from this exercise was for a series of summer local history walks. In response, three walks have been organised for summer 2016. The first took place on 16th May, led by Judith Wilshaw.
Two more will be held in the coming months, Monday 20th June Neil Mullineux will be taking people round Hayfield, and on Monday 18th July Judith Wilshaw will be exploring the Brabyns Estate and Marple Bridge.
Lancashire Mills to Close? This summer may be your last opportunity to visit Helmshore & Queen Street Mills. These historic Lancashire textile sites are threatened with closure in September 2016. Details on this pdf
About the Society
The Society was formed in 1961, following almost a decade of interest in local history matters. Originally The Marple Antiquarian Society, it became The Marple Local History Society in 1990. As a society, we research the history of Marple, endeavouring to unfold it's story, along with that of the surrounding area, including Marple Bridge, Mellor, Compstall, Strines, Hawk Green and High Lane. Monthly meetings are held between September and April, several field trips are made each year. The society publishes a range of publications, has an active archive session on Thursday mornings, and organises occasional exhibitions. More details here. The Society is a Registered Charity, 500099.