Cooperative Society Children's Gala 1900s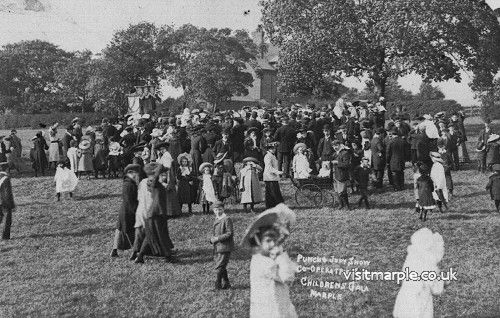 A Children's Gala featuring a Punch & Judy Show in the early 1900s organised by the Cooperative Society in the grounds of Rose Hill House. From Marple Local History Society Archives.
Next Meeting
Monday 12th December
'The Old Vicarage, never a Vicarage', Ann Hearle

'A strange title for a talk about a house.
Everybody calls my home, the Old Vicarage but it never was a Vicarage. So what is the history of the house?
From a site occupied for 10,000 years! The house was the Church Inn, then a house lived in by the perpetual curate, next to a home for a family, onto a children's home then back to a private house. A small holding then once again a home for a family.
So what is the story of the site, the house and the hill top? How was the history unravelled? Come and hear on December' : Ann Hearle
To boldly go...London Road Fire Station Tours with Jonathan Schofield (On various dates during the period Saturday Dec 3rd to Sunday Jan. 8th) Tickets: £10
Elsewhere: The excellent Goyt Valley website aka goyt-valley.org.uk/. Robust discussion alert: In the first of two programmes, Melvyn Bragg and his guests clash over 'The Industrial Revolution' (Part 1). Quieter discussion in (part 2) 'Consequences of the Industrial Revolution'
About the Society
The Society was formed in 1961, following almost a decade of interest in local history matters. Originally The Marple Antiquarian Society, it became The Marple Local History Society in 1990. As a society, we research the history of Marple, endeavouring to unfold it's story, along with that of the surrounding area, including Marple Bridge, Mellor, Compstall, Strines, Hawk Green and High Lane. Monthly meetings are held between September and April, several field trips are made each year. The society publishes a range of publications, has an active archive session on Thursday mornings, and organises occasional exhibitions. More details here. The Society is a Registered Charity, 500099.
Mrs Joseph Swindells
Mrs. Joseph Swindells, who died in 1965 at the age of 86, was Miss Fanny Thornley when she taught at Compstall School. She was a native of Compstall and lived in the district all her life. Her family were closely connected with Compstall Mill.
Memories of Compstall
In the early part of the last century George Andrew and sons founded and built the village of Compstall. George Andrew himself worked as a workman, travelling, with his meals tied up in a red cotton handkerchief slung over his shoulder.