18th September: Peter Wadsworth – 'Strawberry Studios'
16th October: Barrie & Wendy Armstrong - 'Arts & Crafts of the Area'
20th November: Judith Wilshaw – 'Marple & Mellor - A Textile Tale'
11th December: Anne Beswick - 'Manchester 'Drunk & Sober''
15th January: Ian Miller - 'Arkwrights Shudehill Mill'
19th February: Neil Mullineux – 'A Mayor in Chains'
19th March: Sue Bailey – 'Woodsmoor, The Story'
16th April: David Joy – 'Liverpool Cowkeepers - A Family History'
Queues formed, money paid, forms filled, music heard, history told, tea taken doors locked, good night.
The evening in a sentence, but what lies behind those words? Yes, it was that September time again, not back to school for those that trooped into the foyer of the church, that was long ago, but a time to pay for membership or a visit, renew or join, cheque or cash.
Over ninety people sat down and faced the front. Are you sitting comfortably? Then the evening can begin. Chairman Ann Hearle welcomed members both old and new and introduced our speaker, Peter Wadsworth.
Read more: 18th September: Peter Wadsworth – 'Strawberry Studios'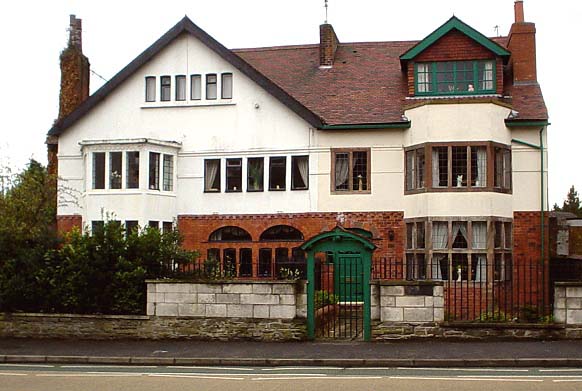 Wendy and Barrie Armstrong were introduced as giving us "two for the price of one" and they certainly did, as they seamlessly swapped roles during their presentation. They both retired early in order to indulge in their passion - a love of the Arts and Crafts movement and that love was clearly communicated throughout their joint talk.
(Editor's note: left, Redcroft & Fencegate 1895, Middleton. Redcroft was Edgar Wood's own home. Wood was regarded as a proponent of the Arts and Crafts movement. So busy was he in his attic studio, where he worked on his buildings, created paintings and designed furniture, that he installed a speaking tube to communicate with downstairs.)