Welcome to the Marple Local History Society website
Visit the online Society Archives here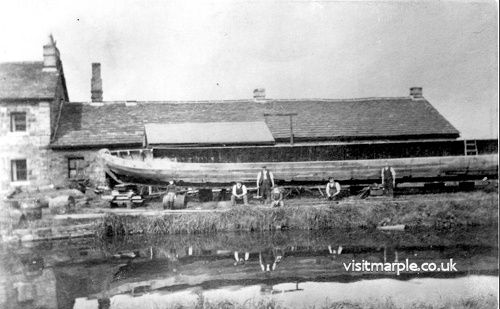 Workers at Jinks' Boatyard pose for a photo with great reflections.
From Marple Local History Society Archives.
---

......Born in 1810 to a poor family in Prestwich, his father's death when Heywood was only 5 resulted in him having received very little formal education. Despite this Heywood built up a thriving printing and bookselling business at an early age. A radical in his politics, Heywood nevertheless won a succession of positions in local government, serving as both a town councillor and as an alderman prior to his first election as mayor in 1862. A mayor who published "Poor Man's Guardian", ......
---
Roy Murphy gave us a wide-ranging talk about James Brindley and the canals which he pioneered. It's nice to think of him as a local boy made good but that is not quite correct. He was born in Tunstead, which is halfway between Whaley Bridge and Chapel, and only about ten miles from Marple, but there is no record of him having anything to do with Marple or Mellor though he must have been to both places. Instead he was more focused on places to the west and the south. He was apprenticed to a millwright near Macclesfield and showed exceptional skill and ability. As the name suggests, the original function of a millwright was to construct and operate mills powered by wind or water, and this developed in scope as the industrial revolution gathered pace.
above: Bridgewater Canal
Read more: 21 October 2019 // Roy Murphy – James Brindley – the first canal engineer