Welcome to the Marple Local History Society website
Visit the online Society Archives here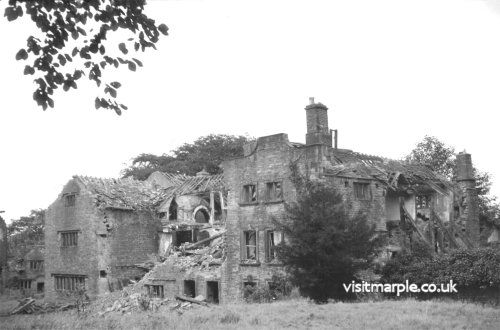 Marple Hall in ruins, the central section of the Hall is gone (Jack Wilkinson)
Neil Mullineux – The Leghs of Lyme: How to join the aristocracy
Withdrawl of 375 bus service:
Be aware that at the meeting of the Greater Manchester Transport Committee on Friday, 21st February, 2020, one item, within point 8 of the agenda, is the axing of the 375 bus service (Stockport - Stepping Hill - Offerton - Marple – Mellor and return). The proposed replacement is a Local Link service (Marple, Mellor and Hawk). For more information read this pdf, in particular page. From which -
The current contracts for the operation of this service end in April 2020. Officers recently issued tenders for the continued operation of this service, with a revised route operating between Mellor, Marple and Hyde, and unfortunately the best prices received represented a significant increase over the expiring contract which would have proved unsustainable due to the extremely high cost per passenger.
Featured Article

(Rose Brow, Compstall in 1880)
William Henry Chadwick – a 19th century local lad who made a name for himself
This story is a result of researching the history of the above in response to a request from Christopher White, from Romiley, who now lives in France. William Henry was his gt gt gt grandfather.
William (not Henry then) was born in 1829, son of Jeremiah Chadwick (from Marple) and his wife, Rachel (nee Prosser). The family lived in Compstall Bridge but the children were baptized in Marple Bridge.
During his childhood WWill chadilliam would become increasingly aware of Chartism, the working class movement for political reform which presented petitions to the House of Commons, signed by thousands of people. In the North West of England industrialisation had led to terrible conditions and poor pay in mills and factories –even children could be working a 12 hour day.