Marple Local History Society Archives
The 'archive team' at work, on a typical Thursday morning
Introduction
The Society has thousands of items in its archives, which have been collected since the early 1960s and are stored at the Mellor Parish Centre, Church Road, Mellor SK6 5LX. A team of volunteers meets most Thursday mornings and is currently working on producing a comprehensive catalogue, which obviously will continue to expand as the collection increases.
If you would like to help with the archives or would like to arrange a visit to look at particular items, please contact Hilary Atkinson at This email address is being protected from spambots. You need JavaScript enabled to view it.
There are too many items to list individually but a look through the various elements of the collection, reached by clicking on the left-hand, archive menu, will give you an idea of the diverse material that we hold in the archive.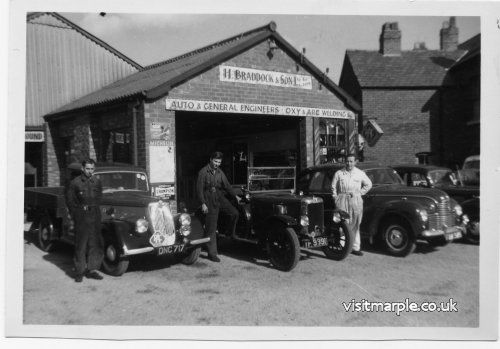 The picture was sourced, from the archive, via this link, with thanks.
Marple Local History Society - alphabetical filing cabinet index.
An alphabetical list of the books held in the Society's Archive at the Mellor Centre.
Title, Date, Author, Notes
A to Z Map of Manchester district 1984
A Village at War Jack Turnbull
A/Z Manchester 1998
Ancient Parish of Glossop
Ancient Parish of Glossop 1990 Lee, Clarke, McKenna
Andrews & Compstall their village 1972 R E Thelwall
Annals of Hyde and District 1899 Thomas Middleton
Antiquities of Lyme 1810 William Marriott
Bible Gems 1896
Book of Common Prayer 1807
Bradshaw's Ghost Ian McLean
Breakfast and Best Bitter 2001 Jack Turnbull
By an Indenture (Housing Marple 2010) 2010
Canals to Manchester 1977 David Owen
Carver Family 1970 J Donald
Changing Face of Marple 1970 Anne Bannister
Compstall Pictures of the Past 2005 Frank Beard
Coronation of George V Parish pictures
Course of the Peak Forest Canal 1964 K K Wood
Cricketer Preferred 1946 Kedrun Laurie
Decline of Mellor, 19th century 1979 A. M. Ashworth
East Cheshire Past and Present 1880 J. P. Earwaker
Eye of the Camera 1993 Jonathan Fryer
Faces and Places , vol. xv 1904
Fifty Years of Calico Printing 1849 C. P. A.
Fireman pictorial history Marple 1994 John Clark
Gas Question in Marple 1887 D E Loverseed
Glimpses of Mellor 1940 John Hibbert Swan
Glimpses of Mellor 2018 M.L.H.S.
Golden Reminiscences, 50 Years NCCC 1993 Pat Christopher
Gone Banding 1984 Charles Ingham
Goyt Valley Story 1969 Clifford Rathbone
Great Floods in the High Peak 1993 Neville T Sharpe
Great Human Exploit J H Smith
High Lane Anecdotes and Memories L Sargent and J Turnbull
Historic Industries of Marple & Mellor 1977 Marple WEA class 1977
Historic Industries of Marple & Mellor 1989 Revised edition
Historical Atlas of Cheshire 1958
History of Education in Marple 1974 G Swindells
History of Marple 1974 Gladys A Swindells
History of Railway, New Mills and District 2015 Derek Brumhead
History of Stockport Court Leet 1971 W M P Taylor
History of the Marple Gas Undertaking 1993 David Loverseed
How they lived on Hillgate 1992 Heather Coutie
In the Arm NCCC 2009 Noel Christopher
Industrial Archaelogy of Stockport 1975 Owen Ashmore
Internet Sites for Local Historians directory 2016 Jacquelene Fillmore
Isaac Watts Boulton 2015 Geoffrey Lewis
Journal of the Manchester Geographic Society Vol.xv Nos 10-12 May 1901 1901 T. Baines & W. Fairbaird
Last Orders Please 1988 Jack Turnbull
Lays and Legends of Cheshire 1972 John Leigh
Let's Go for a Run - Car Tours 1959
Lifetime at Strines Printworks 1997 George Scott
Lime Kiln Accounts 1798
Lime Works Cash Books 1800 1803
Lime Works Repair Ledger 1889 1894
Little Novels of Italy Maurice Hewlett
Ludworth Moor Colliery 1981 G du Feu & Roderick Thackray
M/C Central to New Mills E. M.Johnson
M/C London Road to Hayfield Ian Smith, G. K. Fox
Macclesfield to Marple(Rose Hill) 1995 Basil Jeuda
Macclesfield,Bollington,Marple Railway Basil Jeuda
Maria, the Ghost of Stonehurst 1976 Kitty D. V. Thorp
Marple - for Remembrance 1914-18
Marple and Mellor photos 1997 Ann Hearle
Marple and Mellor, Then and Now 2002 Ann Hearle, Peter Clarke
Marple and the Chartists 2007 Jean Day
Marple Methodist Church 1795-1995 1980 D H Davies
Marple Scouts 100 years 1908-2008 1938
Marple through the alphabet 2017
Marple Township 1880 J. P. Earwaker
Mellor & Townscliffe Golf Club 1994 A. G. Smart
Mellor Heritage 1994 A Ashworth & T Oldham
Mellor through the Ages John Hearle
Mellor, Living on the Edge 2005 Michael Nevell, N. Redhead
Memoir of Robert Blincoe 2011 John Brown
Memories of Marple 1899 Joel Wainwright
Memories of Strines John Taylor
Moor End W I Millennium Cookbook
My Childhood 1971 John Ingham
Narrow Boat to the Cheshire Ring 2006 Ted and Margaret Hill
Natural History, Ludworth and Mellor Tony Smith, Ron Weston
Nature's Joys are Free for All 2009 W Shercliff
New Mills, Short History 1851 J. H. Smith and J. V. Symonds
On The Level 1993 Dennis Suleman
Peak Forest Canal and Railway 2012 Grahame Boyes & Brian Lamb
Peak Forest Canal Marple/Whaley Bridge 1984 Edward L Hill
Pioneers of Calico Printing (Ches./Derbys. 2009 Rosemary Taylor
Railways of Marple & District to 2015 2015 Warwick Burton
Railways of Marple and District from 1794 Warwick Burton
Rambles around Roman Lakes-Leisure Park
Recipes from Marple
Romiley Pictures of the Past Frank Beard
Rural Rambles 1931 J Macauley
Samuel Oldknow S N Heap
Samuel Oldknow 1991 M. L. H. S.
Samuel Oldknow & the Arkwrights 1924 George Unwin
Short History of Marple Hall from 1606 Henry Bradshaw Isherwood
Sigley Memories 1949 Tom Sigley
Stockport, a History 1997 Peter Arrowsmith
Strines Journal -an appreciation 1993 Gladys Swindells
Strines Print Works 1792-2002 1949 Rosemary Taylor
Strines Valley 2013 Rosemary Taylor
The Local Times 1992 Jack Turnbull
Township of Marple 1684-1784 1986 Lucy Simler
Where 2 or 3 are gathered together 2009 Rosemary Taylor
World War I Remembered 1999 J Bintliff P Clark
World War II Remembered 2005 J Bintliff P Clark
Yesterday in Marple and Mellor 1989 Ann Ashworth
An alphabetical list of the miscellaneous items held in the Society's Archive.